My Super Green, Car wash & detail
Eco & Mobile Friendly
My Super Green, STEAM CLEANING Sanitizes and removes dirt without chemicals or bruches. Safe for all surfaces. With the use of the Steamer interiors undergo a full high pressure steam cleaning that removes dirt and grime in hard to reach areas followed b a wipe down using microfiber towels. not only cleaning the targeted area but also disinfecting and purifying it. Interior components such as dashboard vents, seats (leather or fabric), door panels, headliners, carpets, etc are brought back to original factory condition.
At My Super Green We will come to you!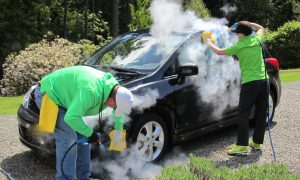 Don't worry about having to travel to find us. At My Super Green we will come to you. Please contact us now, to set up an appointment.
Steam car wash
This is a rather new concept method in the car wash industry. Which has been welcomed in many parts of the world thanks to its Eco-friendliness and effectiveness. Although it has been used in the cleaning industry for decades thanks to its efficient cleaning and sterilizing power. For example, steam is a well-known method of carpet and upholstery cleaning. Steam also readily dissolves deposit on polluted surfaces, also steam can be used to clean cars exterior and interior. In addition it is completely safe on surfaces and upholstery and has, proven sanitizing and deodorizing effects.
The most special feature of steam car clean is its Eco friendliness. And here at My Super Green, we also take that very our environment very seriously. Steam takes very little water (less than 1 gallon per vehicle by average), and it does not cause any waste-water run-off. Steam's washing power is truly amazing! you will be astonished to see what it can achieve without any chemicals!
Water-less Car Cleaning
This unique product contains substantive polymers which bond to the paint and protect it during the wash. Therefore, No Rinse Wash & Shine offers greater protection and lubricity than conventional car washes. While also leaving a sleek & glossy finish behind afterwards.
More than ever, the water shortage problem is now a global issue! Old-school driveway washing uses 80 – 140 gallons of water and leads to water pollution. At My Super Green we use water-less car washing is the new alternative to traditional car cleaning methods. No water is needed other than our spray-on/wipe off clean and polish products. Our way of car cleaning does not cause any water waste run-off.
Cleaning Applications
At My Super Green the steam generated by the Steamer is hot enough to take off any grease and sollage. It produces enough pressure to break down dirt, and is gentle enough to not damage the surface. Most noteworthy it can do it in less time than a traditional car wash. Also the Steamer not only thoroughly washes your vehicle, but also sanitizes the interior and refurbishes greasy engine parts anew. Furthermore it can even reach the tightest spaces and fittings that would otherwise be completely inaccessible with a pressure washer.
Consumes as little as 1 gallon of water per car wash
Eliminates waste-water
Removes, dirt, stains, and grease
Removes, stains from upholstery in less time and using less water than an extractor 95% dry
Clean interiors, exteriors, engine compartments, door jams, floor mats, tires, trunks, upholstery, wheel wells, and hard to reach nooks and crannies
My Super Green works as a team to help you.
Check out our great pricing, and great services HERE